SITEK has successfully completed works on machine model VC 2400/200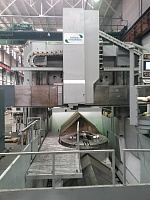 8 июня
The vertical boring and turning machine VC 2400/200 is designed for turning and milling of different parts made of ferrous and non-ferrous materials in short-batch or manufacturing production.
The project on overhaul started in July 2014 and was completed in May 2015.
"This project is very important for our company, - says the project supervisor. - In spite of the fact that we have experience on overhaul vertical boring and turning machines in our background, the overhaul of this machine have contributed much to our experience".
In the process of overhaul and modernization the following works were made:
Engineering of the control system, control panel and electric equipment cabinet;
Dismounting of the old equipment and mounting of the new equipment on the machine;
Repair of the milling shaft drive with substitution of the redged gears, bearing parts and general mechanical rubber goods subjected to wear and tear. Substitution of bilateral reduction gearbox ZF;
Repair of spindle assembly of the milling shaft with substitution of bearings and adjustment of preload. Repair of the tool clamping;
Substitution and mounting of ball screw assembly of motion on axles X, Y, Z;
Substitution of drives of motion on axles X, Y, Z;
Substitution of the main motion drive;
Substitution and fixing of the preload of the faceplate bearings;
Repair of the cross-rail path drive (calibration of the lead screws, production and adjustment of new screw-nuts, reassembly of the drive reduction gearbox);
Polishing of the cross-rail with adjustment of guide ways and inlays;
Substitution of bearings and general mechanical rubber goods on all dismantled units;
Repair of telescopic protection of guides with substitution of cleaner bars;
Repair and modernization of the spare tooling storage with substitution of the drive and changing work logics;
Repair of the universal and angle milling heads with substitution af all rotating bearings, gears, spindle bearings, couplings, inserts and etc.;
Repair of hydraulic system with mounting new components;
Substitution of the multicircuit pumps and setting of hydrostatics support;
Substitution of the refrigerating unit for cooling grease in the hydraulic system;
Full substitution of the components in the lubricating system;
Substitution of the feeding pumps and belt filters on the transporter for purifying on the coolant-cutting fluid.